Very well… to understand Lucifer you need to be aware of some stuff that happened in The Sandman's pages… So let us go… LOL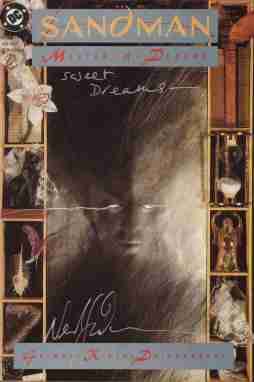 In The Sandman #1 it is the beginning of this century… there was an Englishman witch who tried to prison Death of the Endless because he wanted her to make him immortal…
However, something wrong happened, and instead of Death he jailed Dream. He was dressed for war… he wore his helmet, magic gem… and stuff… It's not said but it's implied that he should be returning from a battle in some realm and was extremely exhausted, that's why a stupid witch was able to catch him…
While Dream was unconscious, the witch took Sandman's stuff away… letting him locked in a crystal cell… He demanded Dream to make him immortal… but he said nothing… just waited patiently…
More than 60 years passed till Dream finally managed to escape… he took revenge over the old witch… and discovered that his things, which carried much of his power, wasn't with the old man anymore… they had been stolen by one of the witch's apprentices…
So in the next issues Dream travels after his belongs… Pretty cool stories!!!
The final item is the helmet… that he learns that it was "sold" to a demon called Chorozon… So he had to enter the hell to take it back…
However that meant to defy Lucifer in his own domain… Although it wasn't Lucifer's business, Dream were not welcome in the hell… (Hmmm… the hell is a place where souls are not allowed to dream…)
But he goes there and beats Chorozon, but strangely Lucifer seems not to care so much… (one of the subtle signs that he would quit the hell) However, it was not a sign of amabiility at all, but arrogant indifference! Oh yeah, Lucifer is quite an arrogant jerk!!! But a powerful jerk… He was God's first and most powerful angel…
OK… then time passes by and other stories came out…

But remember, those descriptions for the Endless? Now it is #21 and Destiny calls the Endless to a family meeting… the purpose of that is obscure… but at the end of the story, after an argument with her older sister Death, Dream decides to come back to hell… Why?
Well, what is quite cool in Neil Gaiman's style is that everything said or shown apparently without much pretension in past stories turns to be revealed intrinsically linked to current plots…
The first time he went to hell… he passed by a spiked cell where a black woman was locked… Her name was Nada…
Some issues after… her story was told…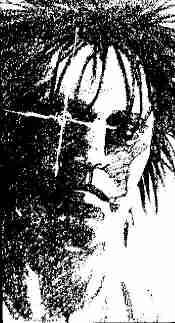 10,000 years ago, Nada was a beautiful princess of an ancient and powerful nation in Africa… One day she saw (what appeared to be) Dream, as beautiful black man… She made all efforts to find him, for she fell in love at first sight… (Hmmm… it seems one of Desire's manipulations…) Using some magic… she finally reaches him… He feels touched and also falls in love… After a while, she does realize who he is… and decide to break up, although loving him so much… According to her, it would not be any good for her and her people the union of a mortal and an endless… That proved to be true, because at present time her people is just legend…
She ran away from him… but he went after her… then desperate, she committed suicide trying to escape… Even so, he went after her and offered her to be an immortal goddess, but she refused once more…
Offended, (because Dream was also arrogant and stubborn) he sentenced her to pass the rest of her existence in hell… quite resentful...huh? LOL
Back to the family meeting… after the argument with Death, Dream realizes his mistake… and decides to free Nada… Oh, but sending someone to hell is much easier to rescue them… LOL
Then, with Lucifer's threat in mind, he gets prepared to war if necessary… and then descends to hell…
What a surprise!!!!!!!!! Astonished, Sandman, and we readers, found the hell empty… Lucifer had freed all souls (and demons)!!! He asked Dream to cut off his wings… he was an angel, right? His appearance is "angelic". He closes the huge gate of hell and gives Dream the key…
A gift? Nope… he said:
'Perhaps it will destroy you, and perhaps it won't. But I doubt it will make your life any easier.'
True. LOL… After that… many gods and entities (in the Sandman stories all mythologies coexist) went to Dream's realm, called "The Dreaming", trying to bargain or steal the key of hell… Even God (who never appears himself!!! LOL) sent two angels to demand the key… after a while Dream decides to give it to the angels… Because… yes… It was God who created the hell… if there's a hell it's for own God's will… WOW… and even for the sandman it's not a good idea to defy the big boss… Lucifer did… at the begging of times… you know the rest… LOL
Then God sends the poor two angels to rule the hell… one of them gets crazy, what a dirty job!!!!!!!
And Lucifer, now just relax… and plays the piano in his cabaret in Los Angeles in the company of his girlfriend Mazikeen, a minor demon, a beautiful woman but half of her face has no flesh… ROFL
That is enough of Lucifer in Sandman's pages…
Now in his own book, he goes after his wings since through an oracle in Germany he gets a "free-pass" from God… it seems he wants Lucifer back as his favorite angel… and then he has to fight to get them back…
More cool pictures of Death and Sandman:
http://www.vamp.org/Gothic/Images/death-image.html
Extra information: